Open Box Matrice 200
BUILT TO ENDURE.
ENGINEERED TO ADAPT.
Read the full product description
Open Box DJI Matrice 200:
Product packaging has been opened, but aircraft and accessories are in like new condition
PACKAGE INCLUDES:
-DJI Matrice 200
-DJI Hard Case (Wheels)
-DJI Matrice 200 Controller
-2x Matrice batteries (TB50)
-8x Propellers
-Battery Charger w/AC cable
-4 Battery Charging Hub
BUILT TO ENDURE
High-performance motors paired with 17-inch propellers ensure stable flight in strong winds. 
The new dual-battery power system automatically heats batteries when flying in sub-zero temperatures, 
while an enclosed design ensures weather and water resistance, so you can fly in a wide range of environments.
ALWAYS READY
The M200 Series drones fold down in a snap and unfold just as quickly. Gimbal mounting plates and aircraft arms stay mounted during transportation so that you're ready to fly within minutes.
Aircraft size and weight: 716mm x 220mm x 236mm; 3.80kg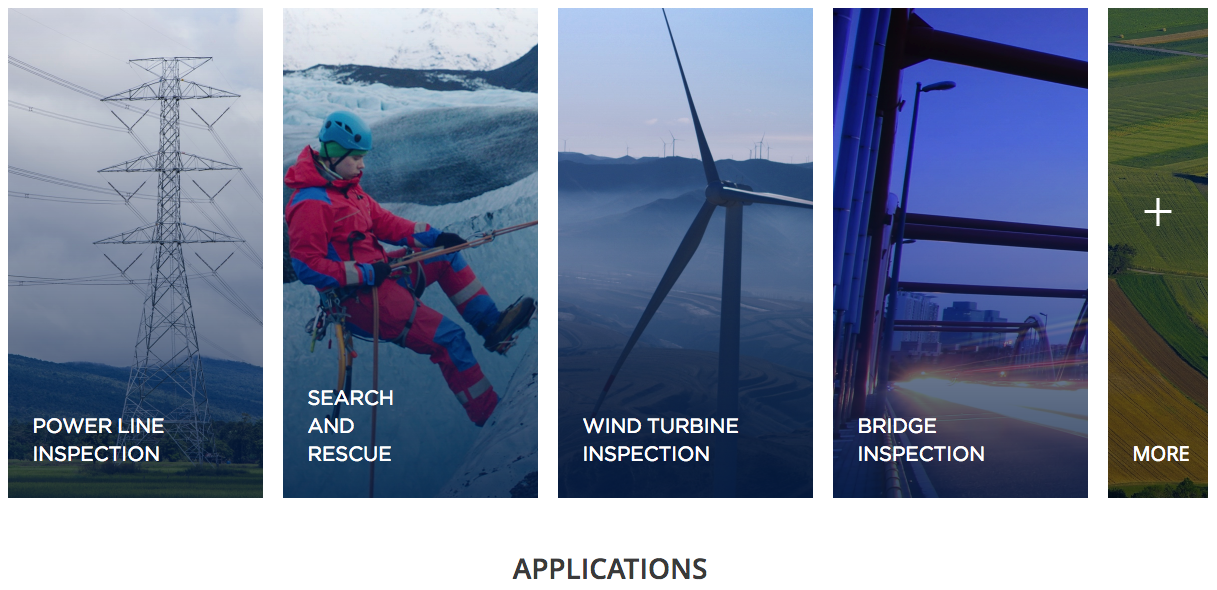 Specifications Comparison:
Model

M210 RTK

M210

M200

Package Dimensions
31.1×15.4×11.4inch (790×390×290mm)
31.1×15.4×11.4inch (790×390×290mm)
31.1×15.4×11.4inch (790×390×290mm)
Dimensions(Unfolded)
34.9×34.6×16.1 inch (887×880×408 mm)
34.9×34.6×14.9 inch (887×880×378 mm)
34.9×34.6×14.9 inch (887×880×378 mm)
Dimensions(Folded)
28.2×11.3×9.3 inch (716×287×236 mm)
28.2×8.7×9.3 inch (716×220×236 mm)
28.2×8.7×9.3 inch (716×220×236 mm)
Folding Method
Folded Inward
Folded Inward
Folded Inward
Diagonal Wheelbase
25.3 inch (643 mm)
25.3 inch (643 mm)
25.3 inch (643 mm)
Number Of Batteries
2
2
2
Weight(With Two TB50 Batteries)
Approx. 4.42 kg
Approx.3.84kg
Approx. 3.80 kg
Weight(With Two TB55 Batteries)
Approx. 5.51 kg
Approx.4.57kg
Approx. 4.53 kg
Max Takeoff Weight
6.14 kg
6.14KG
6.14KG
Max Payload(With Two TB50 Batteries)
Approx.1.72 kg
Approx.2.3kg
Approx.2.34kg
Max Payload(With Two TB55 Batteries)
Approx.0.99 kg
Approx.1.57kg
Approx.1.61kg
Hovering Accuracy(P-Mode With GPS)
Vertical: ±1.64 feet (0.5 m) or ±0.33 feet (0.1 m, Downward Vision System enabled) or ±0.33 feet (0.1 m, RTK enabled) 
Horizontal: ±4.92 feet (1.5 m) or ±0.98 feet (0.3 m, Downward Vision System enabled) or ±0.33 feet (0.1 m, RTK enabled)
Vertical: ±0.5,Downward Vision System enabled: ±0.1
Horizontal: ±1.5,Downward Vision System enabled: ±0.3
Vertical: ±1.64 feet (0.5m) or ±0.33 feet (0.1m, Downward Vision System enabled)
Horizontal: ±4.92 feet (1.5m) or ±0.98 feet (0.3m.Downward Vision System enabled)
Max Angular Velocity
Pitch: 300°/s
Yaw: 150°/s
Pitch: 300° /s
Yaw:150° /s
Pitch: 300° /s
Yaw: 150° /s
Max Pitch Angle(Single Downward Gimbal)
P Mode: 30°(Forward Vision System enabled: 25°)
A Mode: 30°
S Mode: 35°
P Mode: 30°(Forward Vision System enabled: 25°)
A Mode: 30°
S Mode: 35°
P Mode: 30°(Forward Vision System enabled: 25°)
A Mode: 35°
S Mode: 35°
Max Pitch Angle(Single Upward Gimbal)
P Mode: 30°(Forward Vision System enabled: 25°)
A Mode: 30°
S Mode: 35°
P Mode: 30°(Forward Vision System enabled: 25°)
A Mode: 30°
S Mode: 35°
N/A
Max Pitch Angle(Dual Downward Gimbals)
P Mode: 25°(Forward Vision System enabled: 25°)
A Mode: 25°
S Mode: 30°
P Mode: 25°(Forward Vision System enabled: 25°)
A Mode: 25°
S Mode: 30°
N/A
Max Ascent Speed
16.4 ft/s (5 m/s)
16.4 ft/s (5 m/s)
16.4 ft/s (5 m/s)
Max Descent Speed
Vertical: 9.8 ft/s (3 m/s)
Vertical: 9.8 ft/s (3 m/s)
Vertical: 9.8 ft/s (3 m/s)
Max Speed(Single Downward Gimbal)
S Mode: 51.4mph (82.8kph)
P Mode: 38mph (61.2kph)
A Mode: 51.4mph(82.8kph)
S Mode: 51.4mph (82.8kph)
P Mode: 38mph (61.2kph)
A Mode: 51.4mph(82.8kph)
S Mode: 51.4mph (82.8kph)
P Mode: 38mph (61.2kph)
A Mode: 51.4mph (82.8kph)
Max Speed(Single Upward Gimbal)
S Mode: 51.4mph (82.8kph)
P Mode: 38mph (61.2kph)
A Mode: 51.4mph(82.8kph)
S Mode: 51.4mph (82.8kph)
P Mode: 38mph (61.2kph)
A Mode: 51.4mph(82.8kph)
N/A
Max Speed(Dual Downward Gimbals)
S Mode: 40.3mph (64.8kph)
P Mode: 38mph (61.2kph)
A Mode: 38mph (61.2kph)
S Mode: 40.3mph (64.8kph)
P Mode: 38mph (61.2kph)
A Mode: 38mph (61.2kph) 
N/A
Max Service Ceiling Above Sea Level
1.86 miles (3000 m)
1.86 miles (3000 m)
1.86 mi (3000 m)
Max Wind Resistance
39.4 ft/s (12 m/s)
39.4 ft/s (12 m/s)
39.4 ft/s (12 m/s)
Max Flight Time(No Payload,With TB50)
23min
27min
27min
Max Flight Time(No Payload,With TB55)
32min
38min
38min
Max Flight Time(Full Payload,With TB50)
13min
13min
13min
Max Flight Time(Full Payload,With TB55)
24min
24min
24min
Motor Model
DJI 3515
DJI 3515
DJI 3515
Propeller Model
1760S
1760S
1760S
Operating Temperature
-4° to 113° F (-20° to 45° C)
-4° to 113° F (-20° to 45° C)
-4° to 113° F (-20° to 45° C)
IP Rating
IP43
IP43
IP43

CHARGER

Model
IN2C180
IN2C180
IN2C180
Voltage
26.1 V
26.1 V
26.1 V
Rated Power
180 W
180 W
180 W

GIMBAL INSTALLATION

Downward Gimbal Mount
Supported
Supported
Supported
Upward Gimbal Mount
Supported
Supported
Not Supported
Downward Dual Gimbal
Supported
Supported
Not Supported

BATTERY(TB50)

Model
TB50(Standard)
TB50(Standard)
TB50(Standard)
Capacity
4280 mAh
4280 mAh
4280 mAh
Voltage
22.8V
22.8V
22.8V
Battery Type
LiPo 6S
LiPo 6S
LiPo 6S
Energy
97.58 Wh
97.58 Wh
97.58 Wh
Net Weight
Approx. 520g
Approx. 520 g
Approx.520g
Operating Temperature
-4° to 113° F (-20° to 45° C)
-4° to 113° F (-20° to 45° C)
-4° to 113° F (-20° to 45° C)
Storage Temperature
Less than 3 months: -4° to 113° F (-20° to 45° C)
More than 3 months: 72° to 82° F (22° to 28° C)
Less than 3 months: -4° to 113° F (-20° to 45° C)
More than 3 months: 72° to 82° F (22° to 28° C)
Less than 3 months: -4° to 113° F (-20° to 45° C)
More than 3 months: 72° to 82° F (22° to 28° C)
Charging Temperature
41° to 104° F (5° to 40° C)
41° to 104° F (5° to 40° C)
41° to 104° F (5° to 40° C)
Max Charging Power
180 W
180 W
180 W

BATTERY(TB55)

Model
TB55(Standard)
TB55(Standard)
TB55(Optional)
Capacity
7660 mAh
7660 mAh
7660 mAh
Voltage
22.8V
22.8V
22.8V
Battery Type
LiPo 6S
LiPo 6S
LiPo 6S
Energy
176.93Wh
176.93Wh
176.93Wh
Net Weight
885g
885g
885g
Operating Temperature
-4° to 113° F (-20° to 45° C)
-4° to 113° F (-20° to 45° C)
-4° to 113° F (-20° to 45° C)
Storage Temperature
Less than 3 months: -20° C to 45° C
More than 3 months: 22° C to 28° C
Less than 3 months: -20° C to 45° C
More than 3 months: 22° C to 28° C
Less than 3 months: -20° C to 45° C 
More than 3 months: 22° C to 28° C
Charging Temperature
41° to 104° F (5° to 40° C)
41° to 104° F (5° to 40° C)
41° to 104° F (5° to 40° C)
Max Charging Power
180 W
180 W
180 W

FORWARD VISION SYSTEM

Obstacle Sensing Range
2.3-98.4 feet (0.7-30 m)
2.3-98.4 feet (0.7-30 m)
2.3-98.4 feet (0.7-30 m)
FOV
Horizontal 60°
Vertical 54°
Horizontal 60°
Vertical 54°
Horizontal 60°
Vertical 54°
Operating Environment
Surfaces with clear patterns and adequate lighting (> 15 lux)
Surfaces with clear patterns and adequate lighting (> 15 lux)
Surfaces with clear patterns and adequate lighting (> 15 lux)

DOWNWARD VISION SYSTEM

Velocity Range
<32.8 ft/s (10 m/s) at height of 6.56 feet (2 m)
<32.8 ft/s (10 m/s) at height of 6.56 feet (2 m)
<32.8 ft/s (10 m/s) at the height of 6.56 feet (2 m)
Altitude Range
<32.8 feet (10 m)
<32.8 feet (10 m)
<32.8 feet (10 m)
Operating Range
<32.8 feet (10 m)
<32.8 feet (10 m)
<32.8 feet (10 m)
Operating Environment
Surfaces with clear patterns and adequate lighting (> 15 lux)
Surfaces with clear patterns and adequate lighting (> 15 lux)
Surfaces with clear patterns and adequate lighting (> 15 lux)
Ultrasonic Sensor Operating Range
0.33-16.4 feet (10-500 cm)
0.33-16.4 feet (10-500 cm)
0.33-16.4 feet (10-500 cm)
Ultrasonic Sensor Operating Environment
Non-absorbing material, rigid surface (thick indoor carpeting will reduce performance)
Non-absorbing material, rigid surface (thick indoor carpeting will reduce performance)
Non-absorbing material, rigid surface (thick indoor carpeting will reduce performance)

GIMBAL

Compatible Gimbals
Zenmuse X4S
Zenmuse X5S
Zenmuse Z30
Zenmuse XT
Zenmuse X4S
Zenmuse X5S
Zenmuse Z30
Zenmuse XT
Zenmuse X4S
Zenmuse X5S
Zenmuse Z30
Zenmuse XT

REMOTE CONTROLLER

Model
N/A
N/A
GL6D10A
Operating Frequency
N/A
N/A
2.400-2.483 GHz ,5.725-5.850 GHz
Max Transmitting Distance(Unobstructed,Free Of Interference)
N/A
N/A
2.4 GHz: 4.3 miles (7 km, FCC); 2.2 miles (3.5 km, CE); 2.5 miles (4 km, SRRC)
5.8 GHz: 4.3 miles (7 km, FCC); 1.2 miles (2 km, CE); 3.1 miles (5 km, SRRC)
EIRP
N/A
N/A
2.4 GHz: 26 dBm (FCC); 17 dBm (CE); 20 dBm (SRRC)
5.8 GHz: 28 dBm (FCC); 14 dBm (CE); 20 dBm (SRRC)
Video Output Ports
N/A
N/A
USB, HDMI
Power Supply
N/A
N/A
Built-in battery
Charging
N/A
N/A
DJI charger
Dual User Capability
N/A
N/A
Host-and-Slave connection
Mobile Device Holder
N/A
N/A
Tablet or Smart Phone
Max Mobile Device Width
N/A
N/A
170 mm
Output Power
N/A
N/A
9 W (Without supplying power to smart device)
Operating Temperature
N/A
N/A
-4° to 104° F (-20° to 45° C)
Storage Temperature
N/A
N/A
Less than 3 months: -4° to 113° F (-20° to 45° C)
More than 3 months: 72° to 82° F (22° to 28° C)
Charging Temperature
N/A
N/A
32° to 104° F (0° to 40° C)
Battery
N/A
N/A
6000mAh 2S LiPo
USB Supply Power
N/A
N/A
iOS: 1 A @ 5.2 V (Max)
Android: 1.5 A @ 5.2 V (Max)

CENDENCE

Type
GL800A
GL800A
N/A
Operating Frequency
2.400-2.483 GHz
5.725-5.825 GHz
2.400-2.483 GHz
5.725-5.825 GHz
N/A
Max Transmitting Distance(Unobstructed,Free Of Interference)
2.4 GHz: 4.3 miles (7 km, FCC); 2.2 miles (3.5 km, CE); 2.5 miles (4 km, SRRC)
5.8 GHz: 4.3 miles (7 km, FCC); 1.2 miles (2 km, CE); 3.1 miles (5 km, SRRC)
2.4 GHz: 4.3 miles (7 km, FCC); 2.2 miles (3.5 km, CE); 2.5 miles (4 km, SRRC)
5.8 GHz: 4.3 miles (7 km, FCC); 1.2 miles (2 km, CE); 3.1 miles (5 km, SRRC) 
N/A
EIRP
2.4 GHz: 26 dBm (FCC); 17 dBm (CE); 20 dBm (SRRC)
5.8 GHz: 28 dBm (FCC); 14 dBm (CE); 20 dBm (SRRC)
2.4 GHz: 26 dBm (FCC); 17 dBm (CE); 20 dBm (SRRC)
5.8 GHz: 28 dBm (FCC); 14 dBm (CE); 20 dBm (SRRC)
N/A
Power Supply
Extended Intelligent Battery (Model: WB37-4920mAh-7.6V)
Extended Intelligent Battery (Model: WB37-4920mAh-7.6V)
N/A
Intelligent Battery
4923 mAh LiPo
4923 mAh LiPo
N/A
Charging
DJI charger
DJI charger
N/A
Output Power
20 W (supplying power to DJI CS550 monitor)
12 W (without supplying power to monitor)
20 W (supplying power to DJI CS550 monitor)
12 W (without supplying power to monitor)
N/A
Video Output Ports
USB, HDMI, SDI
USB, HDMI, SDI
N/A
USB Supply Power
iOS: 1 A, 5.2 V (Max)
Android: 1.5 A, 5.2 V (Max)
iOS: 1 A, 5.2 V (Max)
Android: 1.5 A, 5.2 V (Max)
N/A
Dual User Capability
Master-and-Slave connection
Master-and-Slave connection
N/A
Operating Temperature
-4 ° to 104 °F (-20 ° to 40 °C)
-4 ° to 104 °F (-20 ° to 40 °C)
N/A
Storage Temperature
Less than 3 months: -4 ° to 113 °F (-20 °to 45 °C)
More than 3 months: 72 °to 82 °F (22 °to 28 °C)
Less than 3 months: -4 ° to 113 °F (-20 °to 45 °C)
More than 3 months: 72 °to 82 °F (22 °to 28 °C)
N/A
Charging Temperature
32 ° to 104 °F (0 °to 40 °C)
32 ° to 104 °F (0 °to 40 °C)
N/A
Charging Time
About 2 hours and 24 minutes (using a 180 W charger)
About 2 hours and 24 minutes (using a 180 W charger)
N/A
Supply Power Time
About 4 hours (only Master remote controller function enabled and without supplying power to monitor)
About 4 hours (only Master remote controller function enabled and without supplying power to monitor)
N/A
Weight
1041 g
1041 g
N/A

DJI GO 4 APP

Name
DJI GO 4
DJI GO 4
DJI GO 4
Mobile Device System Requirements
iOS 9.0 or later
Android 4.4.0 or later
iOS 9.0 or later
Android 4.4.0 or later
iOS 9.0 or later
Android 4.4.0 or later
Supported Mobile Devices
iOS:iPhone 5s, iPhone SE, iPhone 6, iPhone 6 Plus, iPhone 6s, iPhone 6s Plus, iPhone 7, iPhone 7 Plus, iPad Air, iPad Air Wi-Fi + Cellular, iPad mini 2, iPad mini 2 Wi-Fi + Cellular, iPad Air 2, iPad Air 2 Wi-Fi + Cellular, iPad mini 3, iPad mini 3 Wi-Fi + Cellular, iPad mini 4 and iPad mini 4 Wi-Fi + Cellular. This app is optimized for iPhone 7, iPhone 7 Plus.
Android:Samsung tabs 705c, Samsung S6, Samsung S5, Samsung NOTE4, Samsung NOTE3, Google Nexus 6p, Nexus 9, Google Nexus 7 II, Ascend Mate7, Huawei P8 Max, Huawei Mate 8, LG V20, Nubia Z7 mini, Sony Xperia Z3, MI 3, MI PAD, Smartisan T1.
*Support for additional devices available as testing and development continues.
iOS:iPhone 5s, iPhone SE, iPhone 6, iPhone 6 Plus, iPhone 6s, iPhone 6s Plus, iPhone 7, iPhone 7 Plus, iPad Air, iPad Air Wi-Fi + Cellular, iPad mini 2, iPad mini 2 Wi-Fi + Cellular, iPad Air 2, iPad Air 2 Wi-Fi + Cellular, iPad mini 3, iPad mini 3 Wi-Fi + Cellular, iPad mini 4 and iPad mini 4 Wi-Fi + Cellular. This app is optimized for iPhone 7, iPhone 7 Plus. 
Android:Samsung tabs 705c, Samsung S6, Samsung S5, Samsung NOTE4, Samsung NOTE3, Google Nexus 6p, Nexus 9, Google Nexus 7 II, Ascend Mate7, Huawei P8 Max, Huawei Mate 8, LG V20, Nubia Z7 mini, Sony Xperia Z3, MI 3, MI PAD, Smartisan T1.
*Support for additional devices available as testing and development continues.
iOS:iPhone 5s, iPhone SE, iPhone 6, iPhone 6 Plus, iPhone 6s, iPhone 6s Plus, iPhone 7, iPhone 7 Plus, iPad Air, iPad Air Wi-Fi + Cellular, iPad mini 2, iPad mini 2 Wi-Fi + Cellular, iPad Air 2, iPad Air 2 Wi-Fi + Cellular, iPad mini 3, iPad mini 3 Wi-Fi + Cellular, iPad mini 4 and iPad mini 4 Wi-Fi + Cellular. This app is optimized for iPhone 7, iPhone 7 Plus. 
Android:Samsung tabs 705c, Samsung S6, Samsung S5, Samsung NOTE4, Samsung NOTE3, Google Nexus 6p, Nexus 9, Google Nexus 7 II, Ascend Mate7, Huawei P8 Max, Huawei Mate 8, LG V20, Nubia Z7 mini, Sony Xperia Z3, MI 3, MI PAD, Smartisan T1.
*Support for additional devices available as testing and development continues.

UPWARD INFRARED SENSOR

Obstacle Sensing Range
0-16.4 feet (0-5 m)
0-16.4 feet (0-5 m)
0-16.4 feet (0-5 m)
FOV
±5°
±5°
±5°
Operating Environment
Large, diffuse and reflective obstacles (reflectivity >10%)
Large, diffuse and reflective obstacles (reflectivity >10%)
Large, diffuse and reflective obstacles (reflectivity >10%)